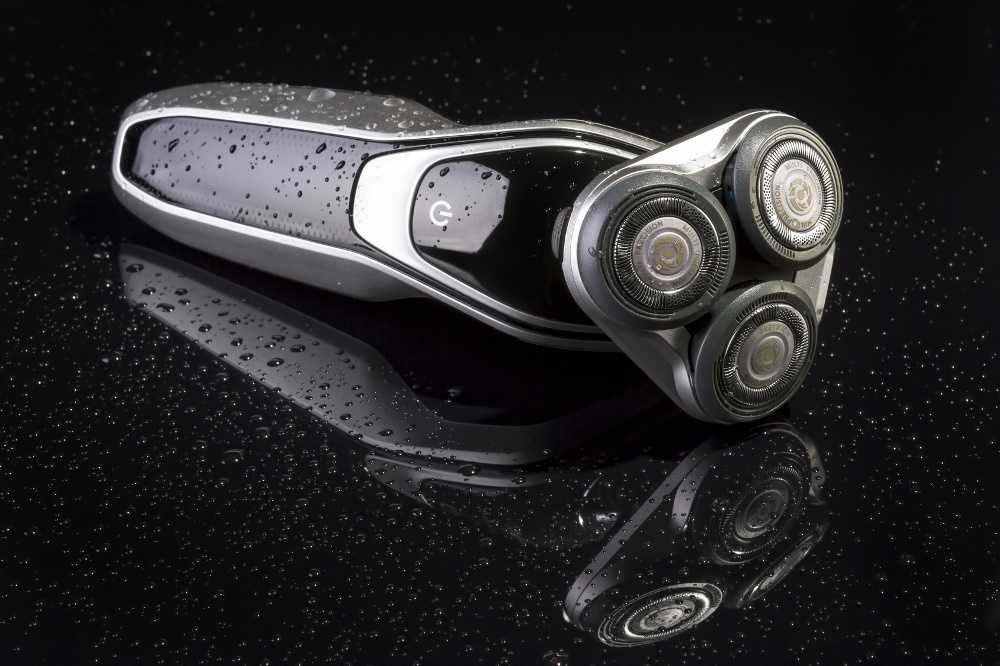 Shaving razors are everywhere. You see them in groceries, convenience stores and lots of local shops because they're a necessity for every man. This is the main reason why there are hundreds of brands on the market today. This also makes choosing the best one from the many options a struggle.
In order to pick the right shaving razor that suits your needs, you need to understand several technical terms and shaving techniques as well as the different types of shaving razor available.
Safety Razors and Cartridge Razors
One of the hottest topics in the world of shaving razors today is the debate between safety razors and cartridge razors. That is because cartridge razors have become the latest trend, creating a multi-billion dollar market that is growing year by year.
Many people argue that single-blade razors are still better than multiple-blade razors because they are safer to use and have more benefits. But is there any real difference between them except for the number of blades?
Why Are Safety Razors Better than Cartridge Razors?
Long before the cartridge razors dominated the market, safety razors were common. They are made from different types of metals like stainless steel and brass. They are also known as double-edge razors as they use a double-edged blade. They were created and introduced in 1901 when people started to look for a safer kind of razor than the straight razor.
Every time the blade gets dull, people replace it with a new one. It is made with three parts so that you can disassemble each of them first before replacing the blade. Running the safety razor across the skin at a gentle angle is enough to cut through the beard without pulling any hair. This way, you are less prone to irritation or bumps, which are something cartridge razor users often experience.
Aside from this, the chance of ingrown hairs is also reduced. This way you can achieve a fresh and clean look without any risks. It might not shave as close as a cartridge razor but it is good enough to shave close to the skin.
A beginner may find it hard to use a safety razor for the first time, especially if he or she is more familiar with a cartridge razor. But once he or she learns the right technique, the quality and beauty of this razor will soon be appreciated. This is especially true once the user sees it is more effective in reducing razor bumps and irritation.
Another thing that gives the safety razor the upper hand is the quality of steel it uses. While cartridge razors can have an extra protective layer for the blades, a safety razor's blades are superior and longer lasting.
Shaving Razors Buying Guide
When looking for the best shaving razor, the following factors should be taken into account, whether you prefer cartridge, safety, or straight razor,
Type of blade: The best type of blade is stainless steel as it is both sharp and long-lasting. Knowing the type of blade used by the razor gives you an idea about how long will you be able to shave with it.
Razor head: The razor head plays an important role in accurate or precise shaving. It prevents accidental cutting because you have total control over the razor. When choosing a safety razor, look for a brand that locks the blade in place firmly and can be turned at a different angle.
Maintenance: Cartridge razors only require a quick rinse in water and a few wipes of the blades while a straight razor needs more care such as cleaning the razor lock system in order to preserve its life.
Length and weight:  A shorter handle normally means better grip and balance while shaving. On the other hand, a razor with a longer handle allows you to rely on the weight of the razor to do the shaving for you.
Other features: If you are going to buy a safety razor, you might as well choose one that comes with multiple blades.
Steps in Stropping a Safety Razor
Step 1: Get an old pair of jeans that you no longer use.
Step 2: Put the jeans on a flat and sturdy surface. Make sure to de-clutter the table or countertop you are going to work on. An unsteady or uneven area can affect your sharpening negatively.
Step 3: Clean the blade of razor gunk that it has accumulated with a cup of warm, soapy water. Let it soak for 15 to 30 minutes and swirl it in the water every now and then.
Step 4: Dry the razor completely, removing the excess moisture by shaking it into the basin and wiping the blade using a cloth. Run the razor the along the cloth, following the direction of the blades.
Step 5: Run the razor along the jeans following the direction of the blades and not against the blades. Do about 20 short, quick strokes in one direction. Then change direction and do the same thing.
Step 6: Run the razor along your forearm without the jeans. Be careful when doing this step as you might get cut. Carefully do 10 to 15 short, quick strokes. Follow the direction of the blades.
Top 5 Best Razors on Amazon
Now that you know the difference between safety razors and cartridge and have understood the right way to sharpen a razor, it is time to know the best products recommended on Amazon. All of the products have received very positive ratings and are mainly made by internationally recognized brands. Read the following reviews and see which of them will suit your style and budget.
Vikings Blade Chieftain Safety Razor
Where else should you look for the best razor than from the trusted and bestselling brand Vikings Blade? Their Chieftain Safety Razor is further proof that this company is superb and serious in making high-quality shaving razors.
It is currently a bestseller on Amazon with lots of positive reviews. Needless to say, it has captured the hearts of mighty men or according to the manufacturer, the nomadic Vikings left on earth.
The shaving razor is made with premium Swedish metals that you won't find in cheap razors. It is chrome plated and has an advanced butterfly head.
In addition, the product also features super-fast blade changes, allowing you to change the blades in as little as 5 seconds. Since this feature could cause accidental cuts, the manufacturer added the Microcomb system to prevent this. Of course, extra care is still advised.
The Microcomb system found underneath the blade exposure can actually help reduce nicks and friction as you shave. Aside from this, the deep knurling handle provides a good grip.
With a bonus leatherette suede case with mirror, 5 complimentary unbranded platinum-coated super blades and an international lifetime warranty, there is no wonder why this product is so popular.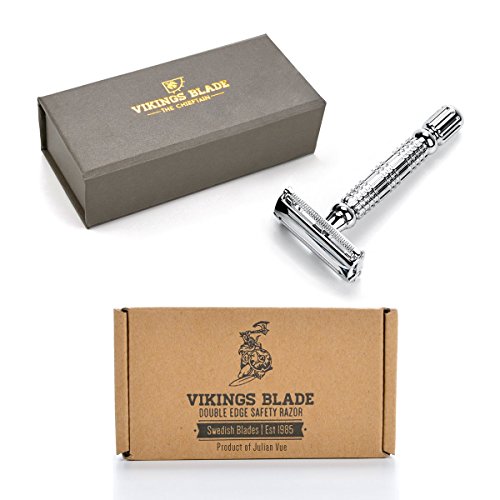 Pros:
Durable and beautiful shaving razor made of premium high-end, heavy-duty Swedish materials
Features advanced butterfly head that makes changing the blade very quick
Deep knurling handle provides a good grip
Comes complete with a leatherette and suede case with mirror and 5 complimentary unbranded platinum-coated super blades
Includes an international warranty against manufacturer defects
Cons:
Quite mild
Not ideal for men with a coarse beard
Not ideal for those who are not used to butterfly razors
Merkur Long Handled Safety Razor (MK 23C)
The second razor on this list is another top-seller on Amazon. The Merkur Long Handled Safety Razor is a German-made product that is also available in the US. It is more affordable than the Vikings Blade Chieftain Safety Razor but comes all by itself with no added freebies.
Despite this, many men are happy to have found this amazing shaving razor because it gets the job done the right way. Unlike ordinary razors, this one has a beautiful chrome finish with a non-slip handle. It won't slip even if your hands are wet.
What makes this Merkur razor unique is its 4-inch handle. In fact, even though the weight is a bit heavier than others, people still find it sturdy and convenient to use. The combination is good, making for a comfortable shave.
Aside from this, the shaving razor is also easy to clean. Simply take apart the 3 parts and let them dry out. This will be enough to keep the blade clean, sharp and ready for the next use. Made of good quality materials and available for a reasonable price, there is no wonder why this razor has received so many positive reviews.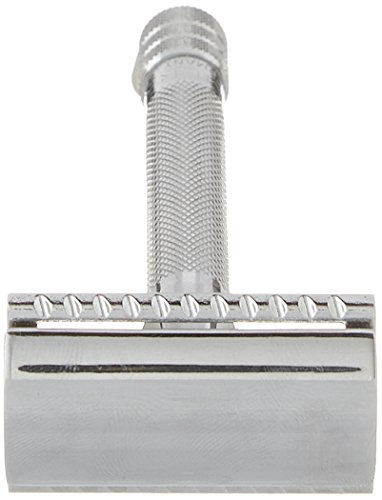 Pros:
Proportionate weight and height
Feels sturdy in the hand and includes a non-slip texture on the handle
More affordable than the Vikings Blade Chieftain Safety Razor
Features a long handle for a more steady shaving
Easy to clean and maintain
Cons:
Conducts heat as the whole thing is made of metal
Doesn't give an extra-close shave
Not as fast and convenient as electric razors
Takes more time to complete a shave
Shaveology Double Edge Safety Razor
Since a shaving razor is something every man should have, Shaveology has packaged its Double Edge Safety Razor in a beautiful white box. The appearance of the box itself makes for a great gift for men.
Regardless of the packaging, this product is still preferable than the cheaper brands today because of its promising qualities and performance.
The shaving razor a neck, head and base with a beautiful chrome finish. Meanwhile, the handle is made with a non-slip black acrylic that prevents accidental slip and cuts. It will still be somewhat slippery when wet though, so extra care is needed while using this product.
Aside from this, the product also has a good proportion of weight and size so that it will feel sturdy in the hand, providing a good grip and total control.
What's more is that it comes with a shaving kit so that you will have everything that you need for your grooming routine. The kit includes 5 more blades made of platinum steel that you will be able to use for at least 60 days.
There is also a leather-branded blade guard that you can bring during travel or use at home. There is even a polishing towel to keep your shaving razor sharp and looking new. To ensure the credibility of the brand, the product comes complete with a 90-day guarantee.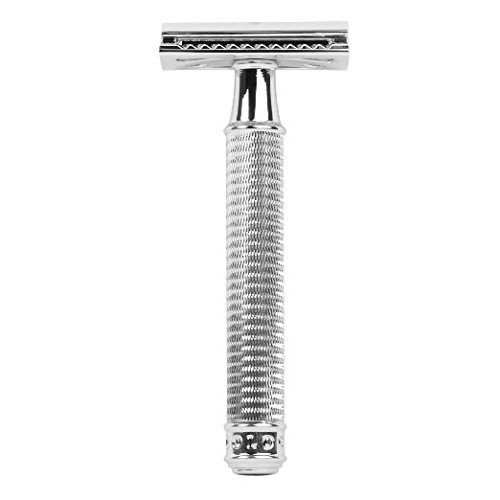 Pros:
More affordable than many other razors
Comes with a leather-branded blade guard, great for traveling and home use
Comes with a shaving kit includes a polishing towel for keeping the razor looking new for years
Packaged in beautiful packaging which makes for a great gift for both men and women
Includes a 90-day guarantee
Cons:
The smooth handle becomes slippery when wet
Low-quality acrylic finish that can wear out over time
Issues of quality control such as the threads being too big which makes them hard to remove
Edwin Jagger Double Edge Safety Razor
If buying the best shaving razor is your goal, you should look for products from the brand Edwin Jagger. This company has been making a name for itself in the shaving razor industry since 1988. They have proven time and again that their products such as the Double Edge Safety Razor are some of the best on the market.
With a huge number of positive reviews online, Edwin Jagger's Double Edge Safety Razor is a safe choice. This shaving razor offers a very close and comfortable shave that experienced and beginner shavers will love.
Despite its unique design, the weight and balance are proportional for accurate and safe shaving. Furthermore, the product also features a blade with just the right angle for all types of double-edge wet shavers.
A lot of men like the superior handle with its precisely lined patterning that offers a better grip and prevents accidental slipping and cuts.
When you have used up all your 5 blades, you can buy any standard double-edge razor blades as the razor head is compatible with any of them. However, you might want to make sure that the blades are as high-quality as the ones included in the package.
Made by a well-known brand, this shaving razor has a beautiful chrome-plated collar with the manufacturer's name embossed on it for authenticity. Lastly, it is complete with instructions, traditional wet shaving advice and product registration information.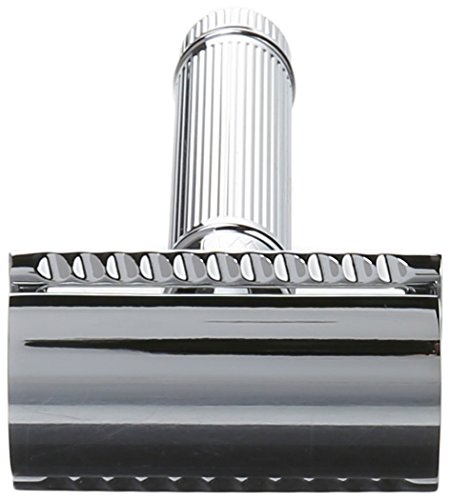 Pros:
Offers a close and comfortable shave at a low cost
Features a comfortable weight and balance for safe and accurate shaving
Great for both beginners and experienced double-edge wet shaver users
Superior-quality chrome handle that features a lined patterning for improved wet grip
Years of product support
Compatible with all standard double-edge safety razor blades
Includes 5 packs of blades
Cons:
Handle easily breaks after a hard fall and is not as durable as other brands
Screw is prone to corrosion
Dovo Straight Razor Carbon
Coming in at number 5 is the beautiful and sophisticated Dovo Straight Razor Carbon. This product is about three to five times more expensive than the others included in this list. It does not come with any accessories that will help you get started, and doesn't have special packaging either. Despite this, many people say that this razor's high price tag is worth it.
This claim is not surprising because Dovo is known for manufacturing simple and high-quality straight razors. Any man will be tempted to buy the razor simply by looking its elegant and stylish design.
This product has a carbon steel razor blade with Prima Silver Steel, letting you feel more and more masculine as you shave. It also has an ebony wood handle that looks more elegant than other razors with plastic handles.
Aside from this, the product is guaranteed to be shave-ready too. You can even try it right out of the packaging. The blade has been designed with a lot of care so you can get a good result with the first stroke.
Reviews also say that taking a few strokes backward is smooth. Other people also have noticed that it is lighter than other brands as well. Thus, it is more comfortable to use, allowing you to have more control while shaving.
Lastly, the shaving razor has more grind in the metal of the blade and a fine edge so that you will come out with the look that you want.

Pros:
Beautiful and sophisticated design
Shave ready and can be used right out of the packaging
Crafted with an evenly ground metal through the blade
Has a fine edge that makes shaving graceful
Includes an ebony wooden handle
Cons:
One of the most expensive straight razors on the market
Might not be ideal for beginners
Grooming or shaving takes more time with this razor
Users need extra care while shaving
Conclusion
Looking for the best shaving razor that will suit you is difficult if you are not aware of their differences, benefits and disadvantages. Just like when you buy any product, knowledge and understanding always make the burden of choosing from hundreds of options lighter.
All the products mentioned in the short reviews above are considered to be among the best shaving razors. All of them are created by popular brands and promise to provide satisfaction during and after shaving.
But you cannot choose all of them. The only way to find out which one is best for you is to consider your requirements and options first. Also, you should read more reviews before purchasing any shaving razor.